Mr Pratik Sufi
Consultant Upper Gastrointestinal and Laparoscopic Surgeon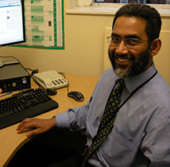 Mr Sufi is the head of Bariatric and Upper GI surgery at the Whittington Hospital in London, which is one of the 8 nationally accredited Tertiary Referral Centre for management of obesity and bariatric surgery in the South-East of England.
He is a member of
Mr Sufi obtained the Fellowship of the Royal College of Surgeons of England in 1996 and was awarded a Master of Surgery by the University of London in 2000. Subsequently he obtained his Fellowship in General Surgery from the Intercollegiate Board in 2005. He was awarded a Chirurgie Laparoscopique degree by the University of Strasbourg following advanced laparoscopy training.
He obtained his first consultant post in 2006 at Central Middlesex Hospital. Subsequently, he was appointed at the Whittington Hospital in 2007and led the development of the multidisciplinary bariatric surgery service. He spear led the development of the multidisciplinary team at North London Obesity Surgery Service (NLOSS) and is an acknowledged expert in this field in the United Kingdom.
Bariatric Surgery
Mr Sufi is the senior surgeon for bariatric and upper GI surgery at North London Obesity Surgery Service (NLOSS). NLOSS is one of the 8 accredited bariatric service providers in South-East England (www.whittington.nhs.uk/default.asp?c=6160&t=1,151), with clinicians from Central Middlesex Hospital, Royal Free Hospital and St. Ann's Hospital in addition to the Whittington Hospital which acts as the hub for surgery.
Mr Sufi is well versed in upper gastro-intestinal surgery including surgical management of obese patients - both laparoscopic and open - as a result of his experience in the UK and Europe. He performs a range of weight loss procedures like endoscopic insertion and removal of gastric balloons, laparoscopic gastric bypasses, laparoscopic gastric bands and laparoscopic sleeve gastrectomies including revision surgery.
Mr Sufi set up the full multidisciplinary team at the Whittington Hospital to provide bariatric surgery. His team consists of bariatric surgeons, eating disorder psychiatrists, metabolic physician, nutrition physician, respiratory physicians, cardiologist, bariatric nurse specialist, bariatric dietician, specialist physiotherapist, anaesthetists, intensivists, radiologists and plastic surgeon. His team excels in performing peri-operative risk evaluation and stratification, peri-operative optimisation of cardio-respiratory reserve and exercise tolerance, improving nutritional status and ensuring that appropriate specialist hospital care is available.
Upper Gastrointestinal Surgery
Mr Sufi is an expert upper gastro-intestinal surgeon and commonly treats difficult acid reflux, gallstones and enlarged spleens causing symptoms. He performs laparoscopic hiatal hernia repair (Nissen's and Dor), laparoscopic cholecystectomy (gallstone removal) and laparoscopic splenectomy. The Whittington is now a designated regional specialist centre for the management of sickle cell disease and thalassaemia with multi-disciplinary (haematology, paediatrics, surgery, intensive therapy unit and anaesthesia) management of these patients for all age groups.
General Surgery
Mr Sufi is an experienced and versatile general surgeon with special expertise in (laparoscopic) keyhole surgery. He commonly performs keyhole repair of groin and other abdominal hernias. He treats abdominal pain, appendicitis, bowel obstruction etc. In addition, he also offers circumcision for all age groups. He also performs both diagnostic and therapeutic endoscopy (minimally invasive examination / treatment of gullet, stomach and bowel), especially of the upper gastro-intestinal tract.
Mr Sufi has visited and trained in specialist centres all over the world, namely in San Diego, Hamburg, Prague, Strasbourg, Oporto, Oslo, Lyon and Paris. His surgical skills are second to none and he has a very low open conversion rate. His patients recover quickly and the vast majority of his patients are day case or short stay, despite complicated surgery.
Special Interests:
Mr Sufi has a keen interest in minimally invasive surgery. He has travelled extensively to centres of excellence in Hamburg, Prague, Strasbourg, Oslo, Madeira, Oporto, Paris and Lyon to acquire advanced Laparoscopic, Endoscopic, Upper Gastro-Intestinal and Bariatric Surgical skills. He has advanced skills in insertion of gastric balloons and laparoscopic gastric bands. In addition, he commonly performs laparoscopic procedures like sleeve gastrectomy, Roux-en-Y gastric bypass, Nissen's fundoplication, cholecystectomy, splenectomy and hernia repairs.
G. Certificates, Conferences & Courses:
UCSD Hands-On NOTES Course - San Diego, CA, USA Oct 30-Nov 1, 2008
Advanced Laparoscopic Bariatric Surgery, IFSO, Buenos Aires, Argentina - October 2008
Communication Skills Increasing Patient Satisfaction - Whittington Hospital, London, Sept 2008
Child Protection - Whittington Hospital, London, UK, July 2008
Natural Orifice Transluminal Endoscopic Surgery - MATTU, Guildford, UK, June 2008
Joint APA, BAPS Meeting & 35the APA Annual Scientific Meeting May 2008
Imperial NOTES Meeting, Elancourt, France, April 2008
Treatment of Obesity by Intragastric Balloon System, Paris, April 2008
UK Symposium - Metabolic Surgery & Medicine for Diabetes, London, April 20
08 Advanced Laparoscopic Bariatric Surgery, IFSO, Oporto, Portugal - July 2007
Laparoscopic Bariatric and Upper GI Surgery, IRCAD-EITS, Strasbourg - June 2007
Laparoscopic Gastric Bypass Course, Aker University Hospital, Oslo - June 2007
Chirurgie Laparoscopique, University of Strasbourg - May 2007
Laparoscopic Gastric Banding Course, Prague - April 2007
Laparoscopic Colorectal Course, Hamburg - 2006
Enhanced Recovery Programme after Colorectal Surgery -2005, 2006
ASGBI Annual Conference - April 2004
Colonoscopy International Conference (St. Marks Hospital) - June 2003
Colorectal Master Class (RCS of Edinburgh) - September 2002
British Society of Coloproctology Annual Meeting (Harrogate) - July 2001
British Society of Gastroenterology Annual Meeting (Glasgow) - May 2001
Foundations of Laparoscopic Surgery (Ninewell Hospitals, Dundee) - 1999
Advanced Trauma and Life Support (RCS of England) - 1996, 1999, 2004
Work Areas:
Laparoscopic Surgery
General Surgery
Hospitals:
Wellington Hospital (private)
Hospital of St John & St Elizabeth (private)
Whittington Hospital (NHS)