Latest News
Supine GERD patients with large breaks experienced higher acid exposure, prolonged bolus clearance Source: Healio
Patients with gastroesophageal reflux disease and large peristaltic breaks displayed prolonged reflux clearance while in a supine position and greater acid exposure time in a recent study.
Researchers used high-resolution manometry to study the esophageal motility of 40 patients (mean age, 44 years; 26 women) with recurrent gastroesophageal reflux disease (GERD) symptoms but no evidence of hiatal hernia. All patients had at least two incidents of vomiting weekly and/or heartburn that lasted for more than 6 months.
---
Gastric bypass better than gastrectomy for GERD relief
Source: News Medical
Patients who are about to undergo bariatric surgery may be better off having a gastric bypass than a sleeve gastrectomy if they also suffer from heartburn, results of a large US analysis suggest.
A review of more than 38,000 bariatric surgery cases found that laparoscopic sleeve gastrectomy (LSG) did not relieve heartburn and may actually have caused gastroesophageal reflux disease (GERD) in some patients. In contrast, Roux-en-Y gastric bypass (GB) was associated with GERD relief. LSG was also associated with reduced weight loss if GERD was present.
---
Gastric banding patients should closely monitor nutrition following surgery
Source: Medical Xpress
Patients who have had bariatric surgery may need to take dietary supplements and pay closer attention to their nutritional intake, a UT Southwestern Medical Center study suggests.
The study, published in the Journal of Investigative Medicine, tracked a group of gastric banding patients and found that despite nutritional counseling over a three-month period, most still did not meet recommended daily requirements for important nutrients such as protein, vitamin D, and calcium.
---
Surgery or drugs for gastro-oesophageal reflux?
Source: BMJ
Surgery is more effective, but patients need time to make up their minds preoperatively
No one could complain about a lack of randomised trials looking at the effectiveness of surgery for gastric reflux. Since the development of laparoscopic fundoplication, more than 130 papers, relating to more than 30 separate trials, have been published. But surprisingly, few of these trials have compared surgery with non-surgical treatment. Before the REFLUX trial, whose long term results are published in a linked paper by Grant and colleagues (doi:10.1136/bmj.f1908),1 only four studies had compared surgery with medical treatment. Most trials compared types of fundoplication or instrumentation (open, laparoscopic, or robotic). Comparisons of two ways of doing the same thing are easier, but comparisons of fundamentally different treatment approaches are usually more important.
---
Surgeons Discuss Bariatric Options for GERD and Hiatal Hernias
Source: General Surgery News
San Diego—Should bariatric surgery be a part of treatment options for gastroesophageal reflux disease (GERD) and/or large hiatal hernias in obese patients? "Yes!" said Jon C. Gould, MD, emphatically, at the 2012 meeting of the American Society of Gastrointestinal and Endoscopic Surgeons (SAGES).
Dr. Gould, associate professor of surgery, Medical College of Wisconsin and chief, Division of General Surgery, Froedtert Hospital, Milwaukee, specializes in bariatric surgery, but a large part of his practice is foregut surgery, and he sees many patients with severe GERD, an increasing number of whom are obese.
---
Further research necessary to fully understand the cause of obesity
Source: Medical News Today
A recent article published in the BMJ reveals that our understanding of what causes obesity may actually be incorrect. The author of the study, Gary Taubes, stresses that if we are to make any actual progress in combating obesity we must further our understanding on what actually causes it. Gary Taubes said: "What we want to know is what causes us to gain weight, not whether weight loss can be induced under different conditions of semi-starvation."
There have been two different hypotheses about the cause of obesity. The accepted hypothesis since the 1950s is that obesity is caused by overeating, however, there is an alternative hypothesis which states that it is caused by a hormonal imbalance.
---
An Operation on Twitter
Click on the thumbnail for enlarged view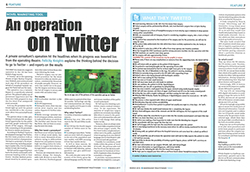 Mr Sufi discusses the benefits of weight loss surgery and the increase in people with diabetes
Type 2 diabetes, a preventable disease caused mainly by obesity and poor diet, has become the 21st century's first pandemic
Click here for more information
---

Mr Sufi discusses 12 things you must know about gastric bands
You will need the Adobe Reader to view and print these documents.